Managing Student Jobs Within Your Event
From the Fixture / Event page you are able to add jobs and tag students within the jobs so they can see what is expected of them before / during / after the event has taken place. You can add something for them to work on or something that will need to be completed to aid the event running smoothly.
Students will be able to see the jobs from within their own Squad in Touch account.
To access the jobs functionality from the fixture / event page, go to the JOBS tab and select ADD JOB.

From the CREATE JOB form you will be able to add a description of the job you are creating and tag the students who it is concerning, you are able to tag as many students as you need but you must tag at least one. Then click SAVE, which will send it live. You can edit a job description and students whenever you need.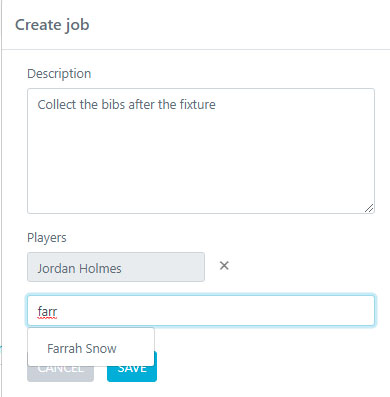 Once you have added your job you can add as many as you need to your list of jobs within your fixture / event and students can be tagged in as many or as little jobs as you need.
You can edit a job by clicking on the EDIT JOB button across from it, this will take you back to the CREATE JOB form.
you can delete a job by clicking the DELETE JOB button, which will remove it from the fixture / event page as well as from participants view.