We know that having a quick an easy function to cancel an event is really important, therefore it is really simple on your Squad in Touch platoform.
Firstly you will need to go to TEAMS & EVENTS > ALL EVENTS find your chosen event and click on the name of your chosen event / fixture.
Then you will need to go to the ACTIONS button and select from one of the two options
To cancel an event you will need to select CANCEL EVENT from the drop down list that will enable you to then provide a cancellation reason. This notification will then be sent out to anyone involved within the fixture:
Students within the team-sheet (providing they have an account)
Any parental user who has been linked to a participant within your team
Any staff member you have tagged within the event, please see a guide on tagging staff members in an event LINK
Once you have cancelled your event, a notification will then be sent to all the relavent users (as shown in the list above) a notification will be sent via email and push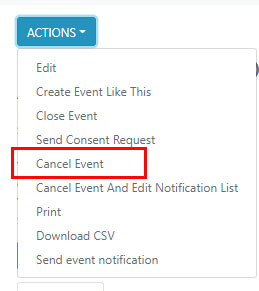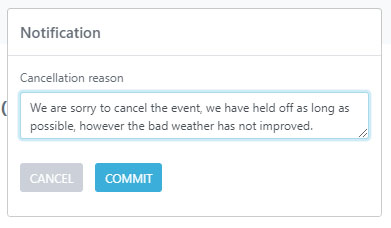 Cancel Event and Edit Notification List
By cancelling the event and edit the notification list, you can select who you would like to send the cancellation to, for example if you have both parents and students with accounts you can select to just send to parents, alternatively you could just send it to staff, or select specific users.