Closing an event will mean that you can add scores, you can do this either from the app when you are at your fixture / event and on the pitch, or you can do it from the website.
Scores can be closed in a number of different ways:
Closing by results: i.e in a football match scoring based on the number of goals scored.
Closing by places
Closing by points
Firstly you will need to go into your chosen event by clicking on the event name from the TEAMS & EVENTS > ALL EVENTS section of your account, you will then be able to select ACTIONS > CLOSE EVENT button.
This will then pull up the results input mode, whereby you can decide how you would like your results to be calculated
Results: This is the default mode, it will calculate results based on goals scored / time, it is dependent on which sport you chose when creating your event.
Places: This mode will allow you to input positions rather than points / results, meaning that 1 = 1st place, 2 = 2nd place.. etc.
Points: The points mode will calculate positions based on the most points, the player / team with the most points will win the event.
Please note, if you are creating an event with multiple teams involved then you will need to close the event by either places or points. 
In addition to this, if you are closing events within a league then you will need to close your event based on points.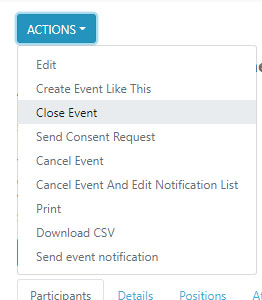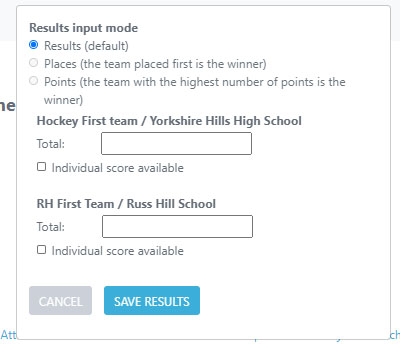 Once you have decided how you would like to input your event scores, you are then able to input the results in the box provided.
If you are closing a team event, you can either input a total score for the whole team, or select to add scores for individual students. Once you click SAVE the results will then go live, anyone involved in the event (participants / staff / parents of participants) will be able to see the scores on their Squad in Touch account.