Editing Tournament Details
Go to your Association Admin portal and select the TOURNAMENTS section in the left hand navigation panel
Select your chosen tournament, you can use the filter system to make it easier to find, once your tournament is selected click ACTIONS > EDIT TOURNAMENT

You are now able to edit your chosen details:
From the edit tournament section you can change all important details surround the tournament, one element I would like to discuss here is the ENTRIES OPEN and the DEADLINE FOR ENTRIES section in the right hand column (as highlighted below). This is where you are able to select from what date schools are able to book onto your tournament and the date that booking closes.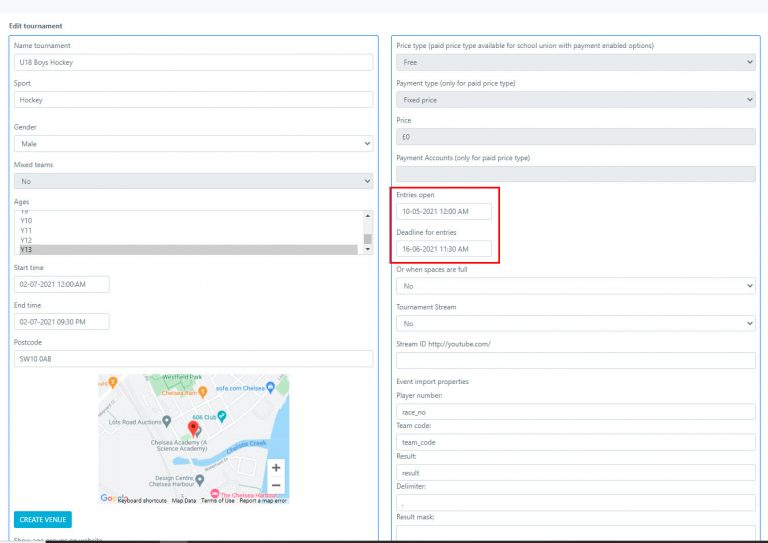 If you are adding a venue and  it is not provided in the list then please use the blue button to CREATE VENUE input a postcode and name the place your tournament is taking place. Please note this does link up to Google Maps.
Another aspect I would like to draw your attention to is the ADD CUSTOM SECTION this enables you to add any event information to your tournament – this will be shown in the EVENT INFORMATION section on the Associations public website. You are able to add attachments  that schools can download.
Finally, there is the scoring section; You are able to input how many points are provided to teams / individuals based on their scores. 'Schools can submit results' this is for a virtual tournament only.