Challenge Event Creation Criteria
To enable you to effectively create and manage a challenge there is a specific criteria that your events will need to hit to enable students to join add their own scores effectively and for them to viewable on the league table.
Start & Finish time: We recommend doing these at least a couple of weeks apart, then students have time to join and complete the challenge as well as try to better their scores.
Activity / Sport: You will need to ensure you choose one of our pre-created challenge sports. You can find these by typing in CHALLENGES to the ACTIVITY / SPORT section on the event creation form.  You can use as many different sports within a league, so for example you don't need to just create just time based challenges, you could have multiple different event types added to the same league.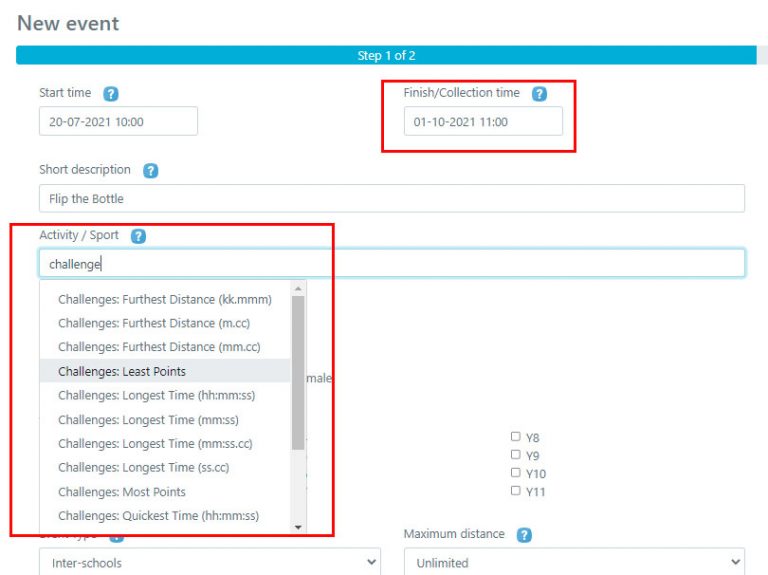 Ensure that Multiple Teams Available has been turned on using the blue toggle, select your gender(s) and then you can either select the year group(s) you would like or leave it blank meaning the challenge is open to the whole school.
In the Event Type select that it is an INTERNAL event and select your Venue / Location, we suggest selecting VIRTUAL CHALLENGES as the loation, if this is not in your events list yet you can add it yourself by selecting the CREATE VENUE button.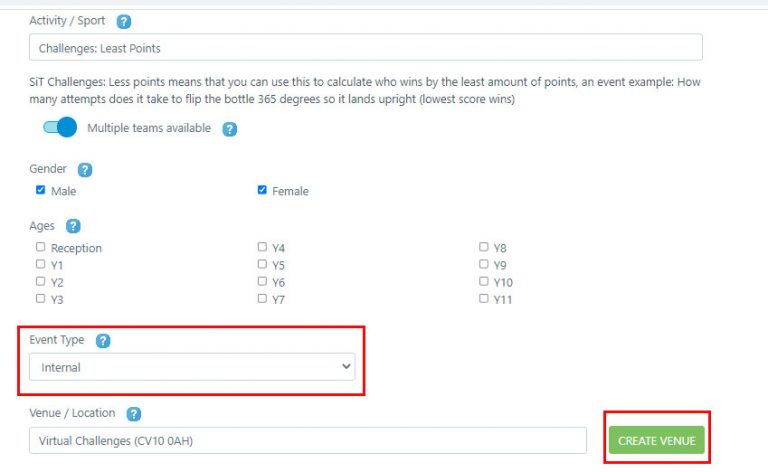 Next is to use the challenge settings, please note this is not used in any other event set up. You can select a photo to include, this will make it much easier for students to decipher which event they are joining onto. 
Select the number of positions to be shown on the leaderboard, if you leave this blank it will show all students who have entered and add their scores.
If you would like students to submit their own results via the Squad in Touch challenges app then ensure you turn this on using the blue toggle and likewise with enabling students to join the challenge
When you're ready select the ADD NEW TEAM option.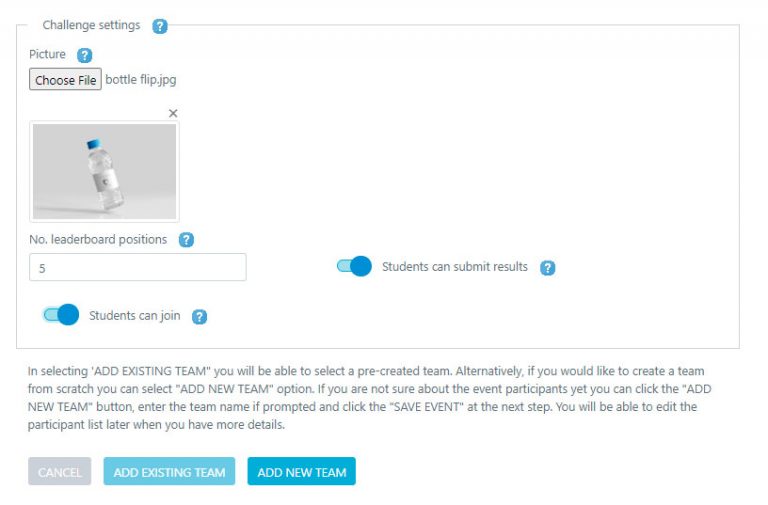 If you have selected for students to join the challenge themselves you can leave this blank, if not then you can add students in as you would with a normal fixture. Then select CREATE EVENT.