Auto Enrollment Management
Go to the TOURNAMENTS section within the tournament organizer admin portal. Select your chosen tournament, use the filter system to filter through all the tournaments. Auto-enrollment will mean that when a school books on, providing there are spaces available they will be automatically added to the tournament. If no spaces are available they will be places on a waiting list.
When you have selected your chosen tournament, click into the AUTO-ENROLLMENT tab and then select EDIT AUTO ENROLLMENT.

This will then pull up the auto enrollment editor. Turn on AUTO ENROLLMENT and then select the number of teams each team can bring. Following this select the maximum number of teams eligible to participate in the tournament and how many teams can enter into the specific age group / gender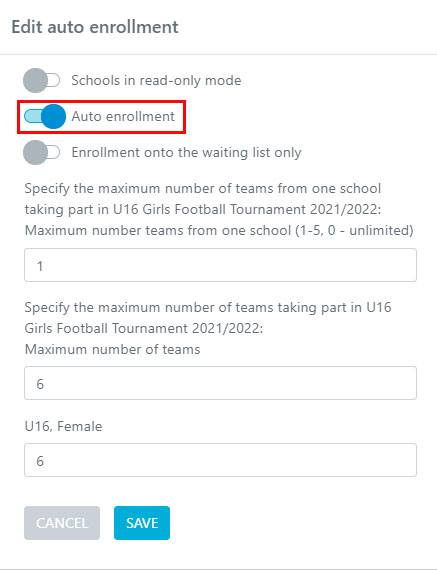 You can view the enrollment log of who booked onto the tournament from the school by going to the ENROLLMENT LOG, from here you are able to see a time and date stamp of when they entered the tournament, who signed them up and what actions they did.
If for any reason you would like to add a comment to a specific log entry then you can select the VIEW LOG button.

Select your chosen entry and then click ACTIONS > ADD COMMENT.