Creating teams for house events from scratch
If you would like to pre-create your teams you can do so by going to the TEAMS & EVENTS > TEAMS section in the left hand navigation panel. You will then be directed to the Teams list – this will contain all teams that you have created so far, whether you have done it from scratch or saved a new team when creating a fixture / activity. This is where you're able to add / amend any teams.
Select the ACTIONS > ADD TEAMS button

The ADD TEAM form will then pop up, which will enable you to add the criteria for your team, please note this criteria will then have to match the criteria of the activity / event you create to enable your team to be selected. The criteria consists of: 
– Age
– Gender
– Sport / Activity type
– House
Input all the information into the form and if you are creating a house team then you can turn on the filter by house option, this will mean you can only select students from your chosen house.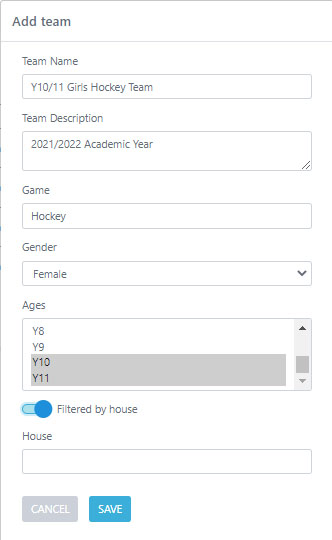 To add participating students to your team go to the PARTICIPANTS tab and then select the EDIT TEAM MEMBERS option, this is where you are able to edit participating students at any time, please note, if you have already created an event using this team, the team sheet will not change when you change the team members from here – all past events will stay the same.
If you would like to change team members for a particular Event / Activity, you will need to do this from the specific Event / Activity.

Select your chosen students from the left hand side, please note you can use the filter option if needed – when you apply a new filter any students you have selected will be unselected, so please ensure you move them to the team using the button at the bottom of the screen.
Current Team Members will be shown on the left and Eligible students will be shown on the right.
Once you click save you will then be able to edit team members and move them back over to the Eligible Students section if needed.