Changing event information
It might be that the event has change date or the time has altered, you can easily update information surrounding your event, the main details you can change include:
Start date
Finish Date
Start Time
Finish Time
Ages
Location
Please note you cannot change the gender of an event once you have created it. Also, once you alter age groups you may find you will need to amend your team. To change details you will need to go to Actions > Edit.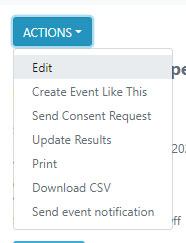 Once you have made the amendments you need to, providing it is enabled on your account you will then be prompted by a REASON FOR CHANGE pop up box, this will allow you to input further details regarding the change, if there is no reason to add simply leave it blank and click send.
If you have not got this set up on your account and you would like it please get in touch with your Squad in Touch support manager.