Add/Remove participants to/from events (individual tournament)
When managing participating students within events you have two options dependent on which method you would prefer. You can either manage the tournament events and select the students you would like to add to those events, or alternatively you can manage the selected events a student will participate in, both options are detailed below;
Adding your team to the tournament
Adding a team is a good way to ensure that only students who are involved in the tournament for your school are selectable, it doesn't matter which of the below option you choose to do to manage your event entrants. To add a team you will need to go to the Upcoming Tournaments section and then select the Teams button

From there select your team and click Actions followed by Edit Participants. You will then be able to filter and move your chosen students over to the right hand column into the tournament team.
Option one: Managing by event
Go to TOURNAMENTS in the navigation panel on the left of your screen.
You can use the filter system to easily navigate through the tournaments and search specifically for the chosen academic year.
From the Upcoming Tournaments section of your account select the Events button alongside your chosen tournament

You can use the Filter option to quickly find events by Sport, Age and Gender.
Select your chosen event from the list and select ACTIONS > EDIT PARTICIPANTS. This will pull up the students list that will already be filtered to show students who are eligible for this particular event based on year group and gender.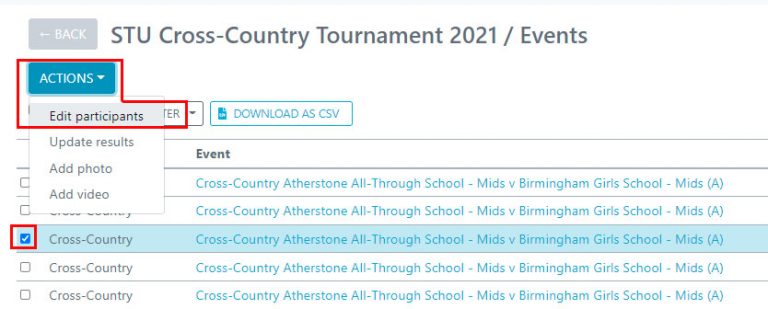 To add participants to the event select your chosen student(s) in the right-hand panel and then using the arrows move them onto the left-hand side, if you cannot find your chosen student use the filter option. To remove students from the event select them on the left-hand side and move back to the right-hand side. To save the changes you will need to click the SAVE button. Once your changes have been saved you will be forwarded back to the event list.
Please note that the filtering options you have set will be saved whilst you are on the event list screen. So if you cannot find any events please check your filtering settings.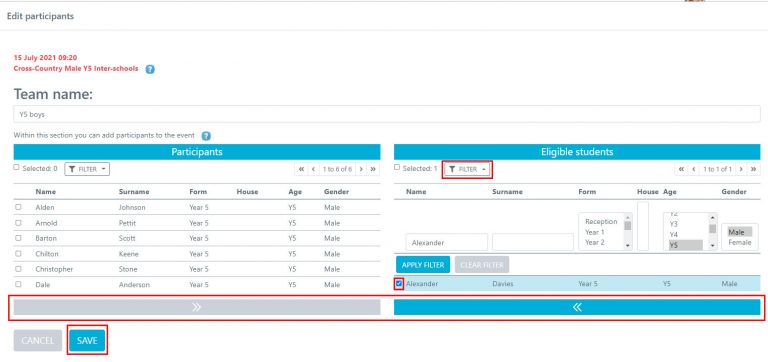 Option Two: Managing by student
This option will talk you through how to allocate students to events via adding a team rather than using the tournament events grid as shown in option one, please note – do not allocate students to relay events using this method, please use option one above for creating your relay team. If you add students to relays using this method they will not be added

Select your chosen team and click Actions > Allocate to events please note in order to do this you must have added students to your team already, see the first section within this guide on how to do that.

From there you are able to filter by student or age group and you can select the add event option alongside your chosen participating student. This will pull up a list of all events they are eligible for. From this screen you are able to add the same student to multiple events. 
On this page you are able to remove students from your team by clicking on the X button in the Remove column. As well as this you can also view students designated events and remove them from the events by clicking on the bin icon.

If you would like them to take part in an event for the year group above you can select to show older age group events.