Add/Remove participants to/from events (individual tournament)
Go to TOURNAMENTS in the navigation panel on the left of your screen. 
You can use the filter system to easily navigate through the tournaments and search specifically for the chosen academic year.
Select your chosen tournament using the checkbox and click the ACTIONS > MANAGE EVENTS button.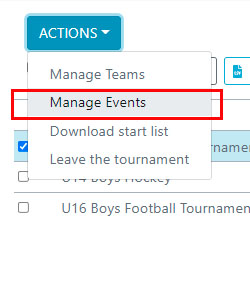 You can use the Filter option to quickly find events by Sport, Age and Gender.
Select your chosen event from the list and select ACTIONS > EDIT PARTICIPANTS. This will pull up the students list that will already be filtered to show students who are eligible for this particular event based on year group and gender.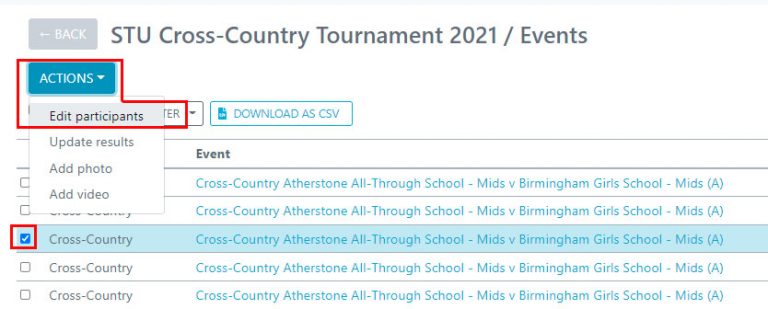 To add participants to the event select your chosen student(s) in the right-hand panel and then using the arrows move them onto the left-hand side, if you cannot find your chosen student use the filter option. To remove students from the event select them on the left-hand side and move back to the right-hand side. To save the changes you will need to click the SAVE button. Once your changes have been saved you will be forwarded back to the event list.
Please note that the filtering options you have set will be saved whilst you are on the event list screen. So if you cannot find any events please check your filtering settings.